Welcome, World Travelers! Is Disney Pushing A "Political" Agenda?
by James Coulter
June is LGBT Pride Month. Every year, companies big and small decorate their stores with rainbow-colored flags, showcase a colorful array of pride-themed merchandise, and plaster their social media accounts with rainbow-colored logos and hashtags of catchphrases like "Love is Love!" Disney is no exception. The Disney parks are currently selling plenty of colorful products including flags, collector's pins, T-shirts, candy apples, alcoholic beverages, and even Mouse ears.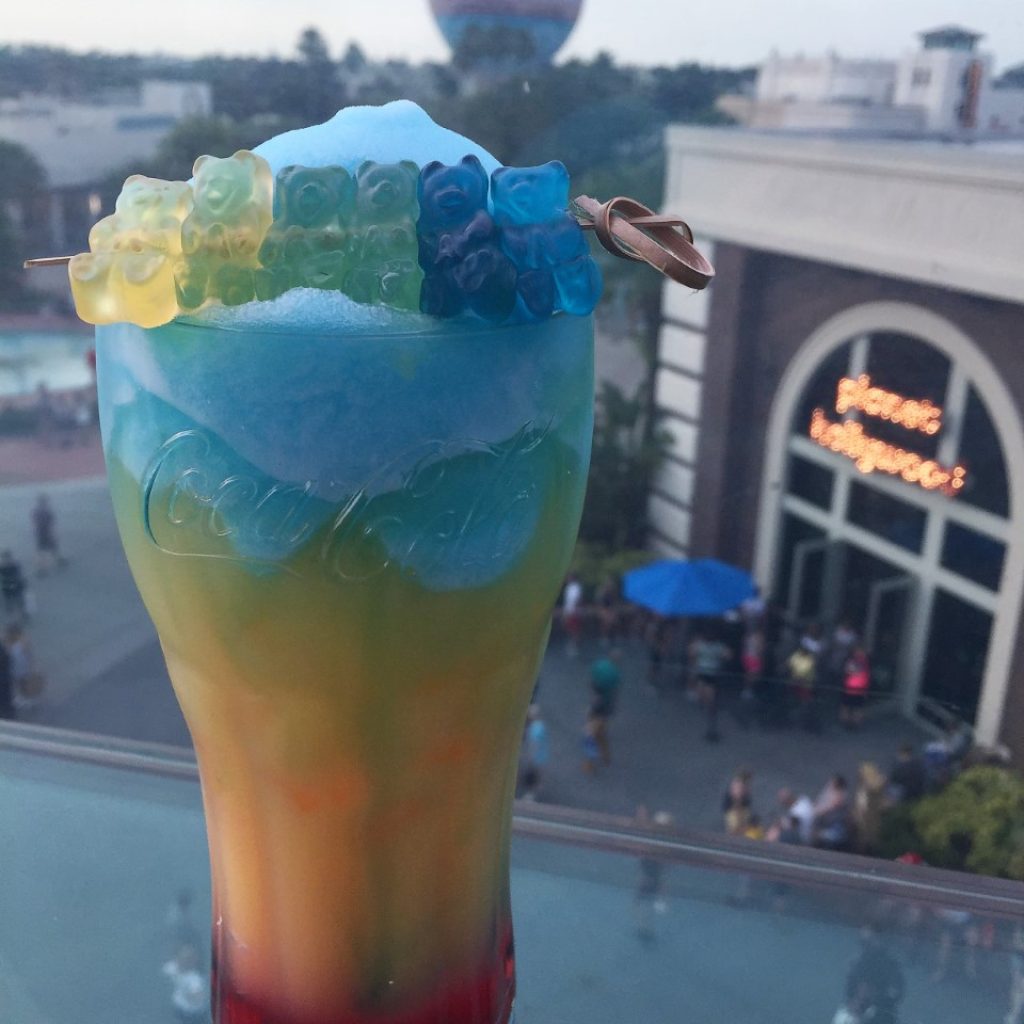 With so much pride-themed merchandise on full display, many people have accused Disney of pushing a "gay" or "woke" agenda. In recent months, some have protested the parks with signs accusing the company of "grooming" children into the "homosexual lifestyle." Even Florida Gov. Ron DeSantis has targeted the House of Mouse by repealing its special privileges and vowing to fight against the company's "woke" policies.
Gov. DeSantis and conservative protesters are correct that Disney is pushing a "political" agenda. However, that agenda is neither "gay" nor "woke." There is a reason why the parks are selling rainbow-colored merchandise. But it's not to "groom" or "indoctrinate" children into a "gay lifestyle." It's not even to show proper support or allyship for the LGBT community. No, Disney has one and only one reason: making money! That's because Disney has one and only one agenda: profit!
Disney and other companies, especially during Pride Month, engage in what has become known as "rainbow capitalism." The term, as defined by Lily Zheng in Harvard Business Review, was coined "to describe how LGBTQ+ symbolism is being wielded by companies to heighten consumerism without leading to meaningful improvement for LGBTQ+ communities." In other words, corporations will happily market to the LGBT community without doing anything else to help them and while also engaging in business and political practices that often harm and discriminate against them, thus helping these companies appear more "socially progressive" than they actually are.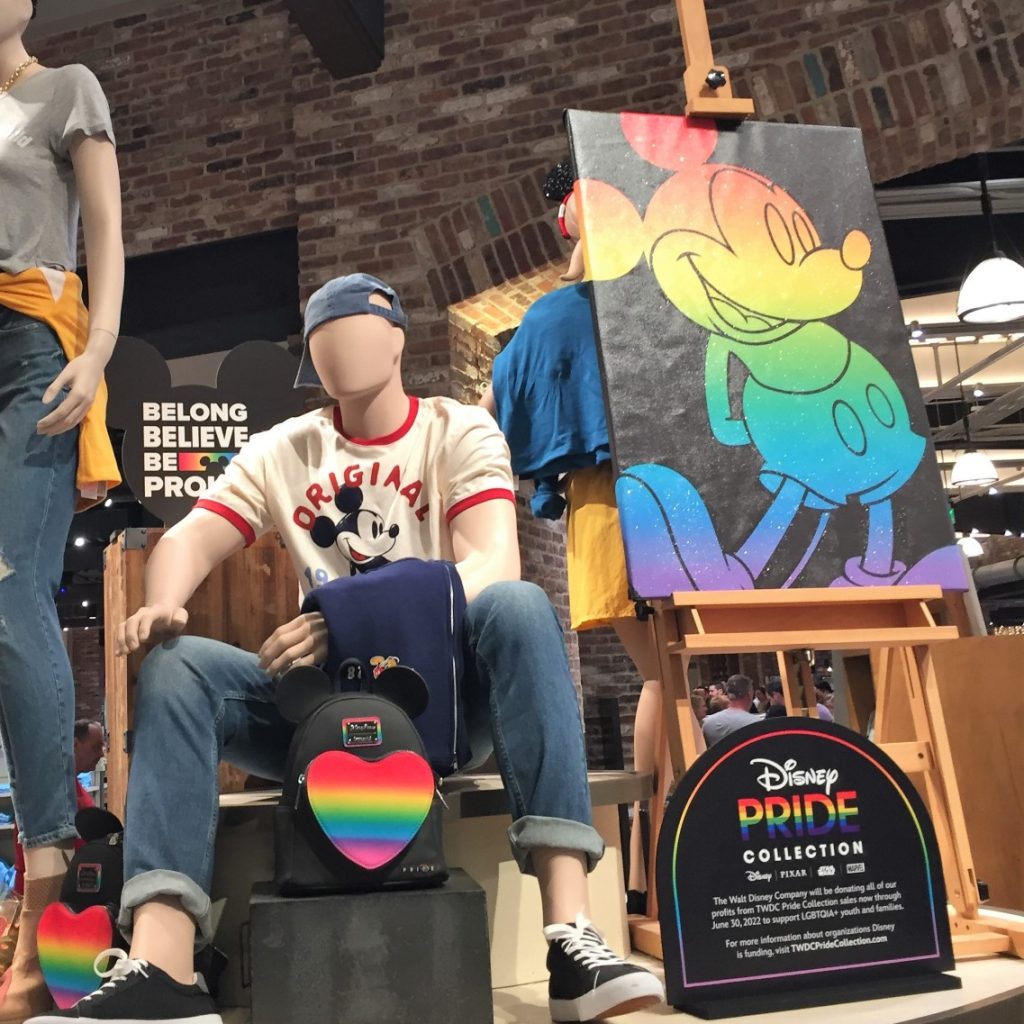 To be fair, "rainbow capitalism" isn't entirely without merit. The very fact major companies like Disney can market to people in the LGBT community, let alone openly acknowledge them, shows how far society has come in becoming more tolerant towards people of other sexual orientations and gender identities. At the very least, corporations serve as a barometer for social change. Even then, selling rainbow-colored products mean nothing if corporations can't back up their words with actions, or worse, engage in actions that are harmful.
This mold of rainbow capitalism perfectly fits Disney. On the one hand, they criticized Gov. DeSantis for his "Parental Rights in Education" bill (otherwise known as the "Don't Say Gay" bill) and paused political donations to Florida lawmakers until it becomes repealed. On the other hand, they only did all this following public backlash after it was revealed they had been donating to DeSantis and other Florida lawmakers responsible for creating the bill.
Disney can sell as many rainbow-colored Mouse ears and tweet "Happy Pride Month" as many times as they want to, but none of their pride-themed corporate virtue signaling will cover up the fact their company has been politically financing politicians responsible for marginalizing and discriminating against the people they allegedly support. They claim to love the LGBT community, yet continuously line the pockets of politicians who hate them.
Disney CEO Bob Chapek, in his response to Florida's controversial bill, claimed his company was dedicated to helping the LGBT community by providing better "representation" through "inclusive" content. He wrote: "The biggest impact we can have in creating a more inclusive world is through the inspiring content we produce, the welcoming culture we create here and the diverse community organizations we support, including those representing the LGBTQ+ community."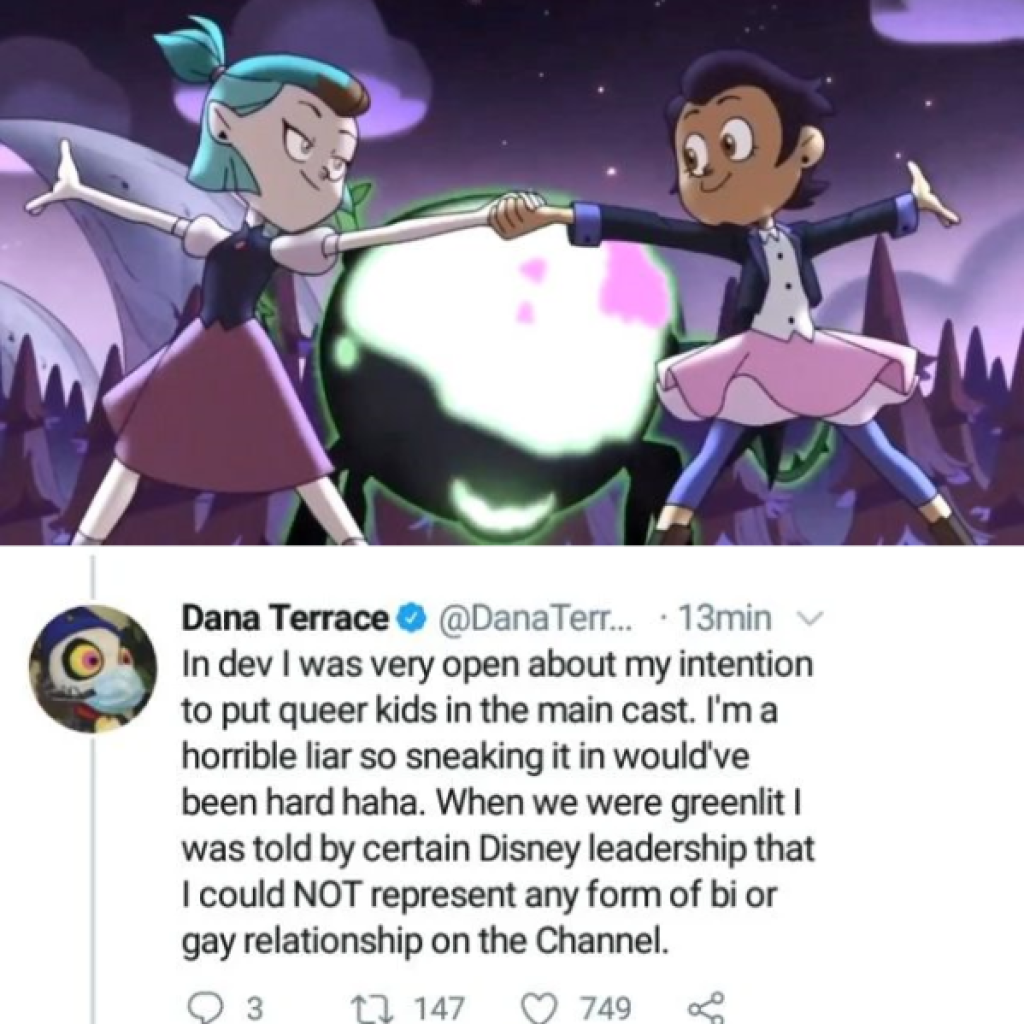 However, in recent years, Disney's "first gay character" has long been a running joke among fans, as many films, from the live-action Beauty and the Beast and Onward to Jungle Cruise and Cruella have featured the company's alleged "first gay character"—who is often a minor or background character who can easily be edited out for foreign releases in countries where homosexuality is taboo or illegal. Having a character appear for a few seconds, say "Hi, I'm gay!", and disappear into the background is not a whole-hearted commitment to inclusion.
To be fair, Disney has offered better representation in their television shows. For example, The Proud Family: Louder and Prouder has a new character with two dads, Andi Mack had an openly gay male character, and The Owl House had its first gay onscreen kiss between two bisexual main characters. However, many creators from Gravity Fall's Alex Hirsch to Owl House's Dana Terrace have mentioned how they had to beg and plead with company executives to get their representation greenlit. So, this "inclusive" content has more often than not been despite the company rather than because of it.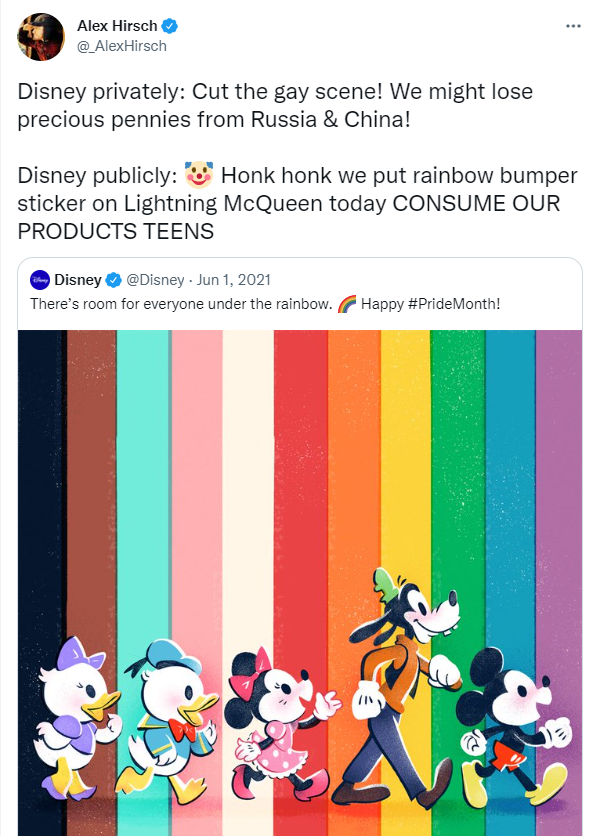 Disney has an agenda. But it's not to "groom" your kids and turn them "gay." It's not even to show support to the LGBT community. Their "agenda" is the same as any other corporation: to make a profit. If they truly care about supporting the LGBT community, they need to do more than sell rainbow-colored Mouse ears. They need to stop funding politicians whose policies hurt LGBT people. They need to start funding organizations and causes that actually help them. And they need to actually provide better representation in their movies and TV shows that aren't throwaway side characters. In short, Disney needs to do better.