Some say this cigar tastes like a Peppermint Pattie. Others say it reminds them of Creme de Menthe. Whatever the case may be, we say it's pretty damn tasty.
If you tried and enjoy Java, consider this your next guilty pleasure. A zero-calorie, carb-free dessert to savor after a thick 'n juicy steak dinner….or that cold leftover pizza from last night.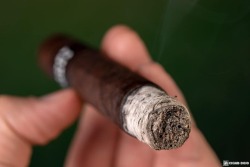 Java Mint is an exceedingly flavorful handmade built with a rich blend of aged Nicaraguan long-fillers inside a thick and oily, 3-year aged Brazilian Mata Fina maduro wrapper.
During the aging process, these cigars have been slowly infused with the delicious subtleties of gourmet mocha with select mints to develop a unique handmade with no comparison.
A rich, traditional, medium-bodied handmade filled with hints of mocha, coffee, vanilla, and mint that burns silky-smooth and creamy down to the nub, leaving behind a lovely sweetness after each puff along the way.
If you're looking for a sweet cigar to mix things up, Java Mint is a top-notch choice.