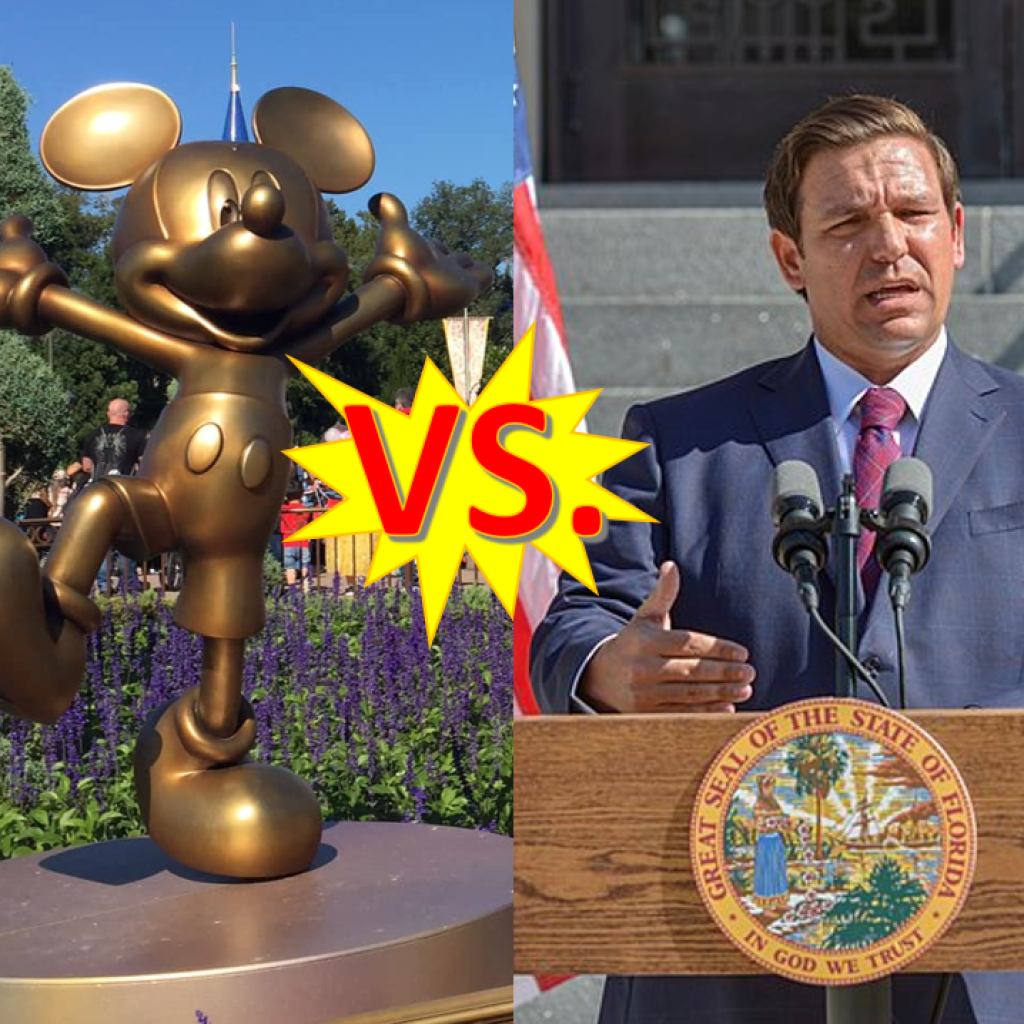 by James Coulter
Upon denouncing a controversial Florida bill, Disney has been targeted by conservatives accusing it of pushing a "woke agenda." At the forefront of this culture war is Florida Gov. Ron DeSantis, who has threatened to repeal the company's special privileges. But is the Florida Governor wise to take a stand against the House of Mouse?
Last month, Gov. DeSantis signed the "Parental Rights in Education" bill (dubbed the "Don't Say Gay" bill by opponents), which prohibits educators from discussing gender and sexual orientation with students grades kindergarten to third grade.
The Walt Disney Company, which had previously offered political donations to Florida lawmakers, released an official statement denouncing the law and vowing to help repeal it and pause all political donations to the state until then. "Our goal as a company is for this law to be repealed by the legislature or struck down in the courts, and we remain committed to supporting the national and state organizations working to achieve that," the statement read.
Gov. DeSantis quickly shot back at the company. "This state is governed by the interests of the people of the state of Florida, it is not based on the demands of California corporate executives. They do not run this state. They do not control this state." He threatened to repeal the company's "special privileges", including the Reedy Creek Improvement Act. Created in 1967, the law creates a unique self-governing district for the theme park, allowing it to have its own building and zoning codes, security forces, and fire departments.
Currently, Walt Disney World is one of the largest employers and taxpayers in Central Florida. A 2019 study revealed the company created more than 463,000 jobs, produced $75.2 billion in annual economic impact for Central Florida, and raised $5.8 billion in additional state tax revenue, as reported by the Tallahassee Democrat.
As such, many opponents have called Gov. DeSantis foolish for taking such a stand against one of the state's biggest economic drivers. Furthermore, they have accused him of abusing his political power to take down a political rival, especially a private company.
"DeSantis' threats of official action against Disney for merely opposing him on a policy issue should strike any freedom-loving American as an outrageous and unacceptable infringement on free-speech rights," read an editorial from the St. Louis Post-Dispatch. "So a governor is using his power to punish a company right after it announced it would stop giving him money. What could possibly look shady about that?"
Other opponents have accused Gov. DeSantis of political grandstanding, claiming he only chose to pick a fight with Disney to further his midterm re-election. Currently, the govenor stands with a 54% approval rating, according to a survey by the St. Pete Polls. Recently, he raised more than $100 million for his reelection effort, making him "the first gubernatorial candidate in the Sunshine State — and perhaps the entire country — to reach the nine-figure milestone solely through donations," CNN reports.