On the surface the NAFTA and USMCA trade deal appears to help US Agriculture industries. Trump even tweeted that the new deal was "Good for everybody – Farmers, Manufacturers, Energy, Unions.
While there are provisions in the USMCA deal to support Dairy, sugar, syrups, cotton, animal feed, food preparation products, and chocolate it does nothing to protect fresh fruits and vegetables.
Many US Farmers feel the new USMCA deal failed to deliver and instead may have put the last nail in the coffin for many small Family run Farms. Just take a look around Florida. At one point in time Florida was considered the orange grove of the world. For many families the citrus and agriculture industry fed and supported their families. Today Many Florida Groves and Agricultural properties are now residential neighborhoods and malls. Family run farms are almost nonexistent.
For the last decade the Florida Citrus and Agriculture industry has been financially impacted by heavy agricultural product imports from places like Mexico, Brazil, and Chile. For example: Imports of Blueberries have increased to nearly 60% of the total Blueberry market in 2018 and is only growing.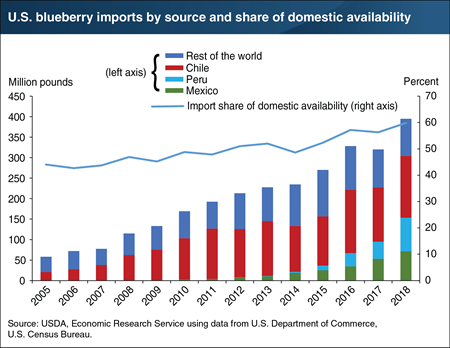 While the new trade deal will help control imports of some products the deal does not address imports such as fresh fruits and berries. Many countries like Mexico are able to flood the market with imports driving down the price of berries to levels that are not sustainable by US based growers. Some US growers have started to take the mindset of "if you can't beat them join them.
US companies, farmers, and foreign investors are now investing in large Mexican Berry operations to take advantage of cheap labor, land, and no import fees. This is creating a very unfair playing field for US Farmers who have an overall higher cost of doing business.
The current COVID crisis in the US should be an eye opener for Americans that we must not depend on foreign trade to survive. Now more than ever the Trump administration should reevaluate the trade deals that have a negative effect on US based operations. Especially rural America where Family Farms are the lifeblood of our food supply.
At the end of the day the Trump administration needs to impose tariffs on fresh fruits and vegetables to protect American Farm operations. By imposing tariffs on fresh fruits and vegetables, imports of these products will be reduced and American Farmers will be given a level playing field to compete in the market. Ultimately the tariffs will allow the US Farm Industry to recover, build, and expand the very operations that feed our families.
Sources:
https://ustr.gov/trade-agreements/free-trade-agreements/united-states-mexico-canada-agreement/agreement-between https://ustr.gov/sites/default/files/files/agreements/FTA/USMCA/Text/US_Tariff_Schedule_Appendix_1.pdf https://www.ers.usda.gov/data-products/fruit-and-tree-nut-data/data-by-commodity/