APRIL 21, 2020 
Washington, D.C. – Speaker Nancy Pelosi issued this statement in recognition of Holocaust Remembrance Day: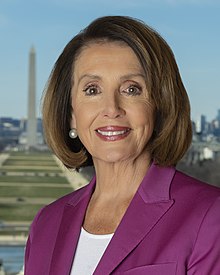 "Holocaust Remembrance Day is an opportunity to pause and honor the six million Jews murdered and countless other men, women and children silenced forever simply because of who they were and what they believed. On this day, we remember the incomprehensible horror of the Shoah and rededicate ourselves to our sacred duty: Never Again.
"This year, we observe Holocaust Remembrance Day as we also recognize 75 years since Allied Forces, including 36 heroic U.S. Army divisions, liberated countless Jews and so many others from indescribable evil. In January, I had the solemn honor to lead a bipartisan delegation to commemorate the liberation of Auschwitz, where we walked on a ground scarred by the Nazis' unspeakable crimes, and where more than one million innocent souls lost their lives. On that hallowed ground, we reaffirmed America's enduring commitment to remember the names and stories of those who suffered, particularly now, as the forces of anti-Semitism, hatred and intolerance that led to the Holocaust are re-awakening. That is why, in January, the House proudly passed the Never Again Education Act to provide critical resources and funding to help educate the world about what can happen when hate goes unchallenged and oppression is met with indifference.
"Today, as we reflect one of the darkest chapters in human history, our nation and the world face an unprecedented health and economic crisis. During these challenging times, we must rededicate ourselves to combatting hatred, xenophobia and violence, wherever and whenever they occur. The lessons of the Holocaust remind us all that we cannot and will not stay silent or stand idly by in the face of bigotry and injustice. We must renew our solemn responsibility to learn from the past and recommit to the critical work of building a future of peace, hope and dignity for all."